606@BJC British-Hungarian Club Festival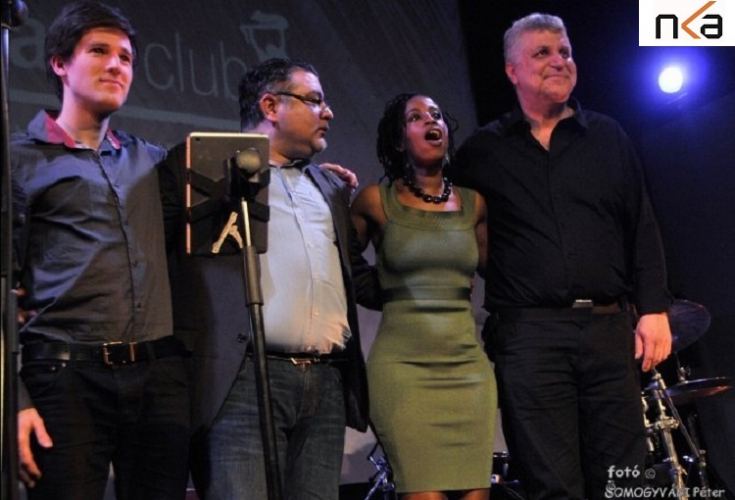 A three-day jazz festival with real British 606 Club vibes!
1st Day // 03.23.

20:00 - BALÁZS JÓZSEF TRIO FEAT. MORNINGTON LOCKETT

Here are some quotes from the British press: "One of the country's most accomplished contemporary improvisers... with a fearsome technique and an advanced harmonic approach "Time Out - " Locomotive tenorist outsteams the competition " The Guardian

Mornington Lockett – saxophone, Balázs József – piano, Peczek Lakatos Krisztibán – bass, Balázs Elemér – drums


21:30 - ELSA VALLE'S AFROCANDO FEAT. DAVE OLIVER

Pianist, keyboard player, singer and composer-arranger DAVE OLIVER is one of the most in-demand musicians in London's vital Latin jazz scene. He can be heard in such top groups as the Latin Section, Manteca, Roberto Pla & His Orchestra, Conjunto Sabroso and the Cuban Sugar Kings.

Dave Oliver – piano, Elsa Valle – vocal, Winand Gábor – vocal, saxophone, flute, Orbán György – bass, Csízi László – drums, Cziebere József – percussions


2nd Day // 03.24.

20:00 - JUHÁSZ MÁRTON QUARTET  FEAT. BYRON WALLEN

Trumpeter  Byron  Wallen  is  of  the  new  generation  of  highly  educated  black  British  musicians.  He  has played in such diverse company as Paul Weller's Style Council, a most unusual duo of himself and vocalist Cleveland Watkiss, the bands of Courtney Pine, Jean Toussaint and the American, Charles Earland.

Byron Wallen – trumphet, Juhász Márton – drums, Ibrahima Cheikh Fall – djembe, balafon, vocals, Tálas Áron – keyboards, Matthew Mitchell – guitar, Tóth István – bass guitar


21:30 - TÁLAS ÁRON TRIO FEAT. LOUISE MARSHALL

The amazingly versatile British songstress, Louise Clare Marshall is equally at home in rock/pop, soul or jazz. She has been on TV countless times as the featured singer with the Jools Holland's band but also includes performances with the likes of Ronnie Wood, Stevie Winwood, Van Morrison, Bryan Adams, Bryan Ferry and Robbie Williams in a list that is far from complete. A steadily rising star on the UK Jazz scene.

Louise Clare Marshall – vocal, Tálas Áron – piano, Oláh Péter – bass, Jeszenszky György – drums


3rd Day // 03.25.

20:00  - SZAKCSI TRIO FEAT. STAN SULZMANN

A great veteran of the British jazz scene, saxophonist Stan Sulzmann is a master of all the reed instruments. During his carreer he has headed some excellent combos and big bands and is also a most original composer.

Stan Sulzmann – saxophone, Szakcsi Lakatos Béla – piano, Orbán György – bass, Balázs Elemér – drums


21:30 - SZAKCSI LAKATOS RÓBERT QUARTET FEAT. NATALIE WILLIAMS

Natalie has toured extensively around the globe, performing at a number of the world's leading jazz events including opening the 2009 London Jazz Festival at the Barbican with Guy Barker's Jazz Voice, the Montreux Jazz Festival in Switzerland, as well as Glastonbury with Shlomo and the Vocal Orchestra.

Natalie Williams – vocal , Szakcsi Lakatos Róbert – piano, Fenyvesi Márton – guitar, Barcza-Horváth József – bass, Balogh László – drums


ticket price / day:
2500/1800HUF
TICKET SALES:
AT BJC BOX OFFICE:
Opens one hour before the show.

ONLINE:
You can buy your tickets via www.jegymester.hu.
HERE >
PHONE RESERVATION:
Generally you can book tickets or even a table at the concert hall via phone.
Please note that all reserved tickets have to be picked up at least 30 minutes before the concert.
+36 1 798 7289
If you haven't visited us yet, you may find other helpful information
HERE>