Benny Golson Quartet (US)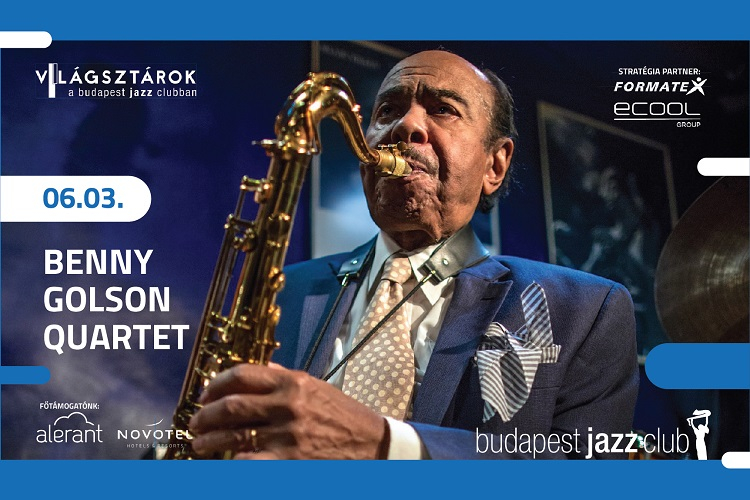 Multitalented and internationally famous jazz legend, - a composer, arranger, lyricist, producer - and tenor saxophonist of world note, Benny Golson was born in Philadelphia, PA on January 25, 1929.
Raised with an impeccable musical pedigree, Golson has played in the bands of world famous Benny Goodman, Dizzy Gillespie, Lionel Hampton, Earl Bostic and Art Blakey.
He has recorded over 30 albums for many recording companies in the United States and Europe under his own name and innumerable ones with other major artists. A prodigious writer, Golson has written well over 300 compositions.
For more than 60 years, Golson has enjoyed an illustrious, musical career in which he has not only made scores of recordings but has also composed and arranged music for:
Count Basie, John Coltrane, Miles Davis, Sammy Davis Jr., Mama Cass Elliott, Ella Fitzgerald, Dizzy Gillespie, Benny Goodman, Lionel Hampton, Shirley Horn, David Jones and the Monkees, Quincy Jones, Peggy Lee, Carmen McRae, Anita O'Day, Itzhak Perlman, Oscar Peterson, Lou Rawls, Mickey Rooney, Diana Ross, The Animals (Eric Burden), Mel Torme, George Shearing, Dusty Springfield
His prolific writing includes scores for hit TV series and films:
M*A*S*H, Mannix, Mission Impossible, Mod Squad, Room 222, Run for Your Life, The Partridge Family, The Academy Awards, The Karen Valentine Show, Television specials for ABC, CBS and NBC. Television specials for BBC in London and Copenhagen, Denmark. Theme for Bill Cosby's last TV show, A french film 'Des Femmes Disparaissent" (Paris)
This humble musical giant continues to impress critics, fans and fellow musicians with his prodigious contributions to the world of jazz.
Benny Golson – saxophone, Joan Monné – piano, Ignasi González – bass, Jo Krause – drums
TICKET SALES:

AT BJC BOX OFFICE:
Opens one hour before the show.


ONLINE:
You can buy your tickets via www.jegymester.hu.
HERE >
PHONE RESERVATION:
Generally you can book tickets or even a table at the concert hall via phone.
Please note that all reserved tickets have to be picked up at least 30 minutes before the concert.
+36 70 413 98 37, +36 1 798 7289
If you haven't visited us yet, you may find other helpful information
HERE>