Jazz New Year's Eve 2017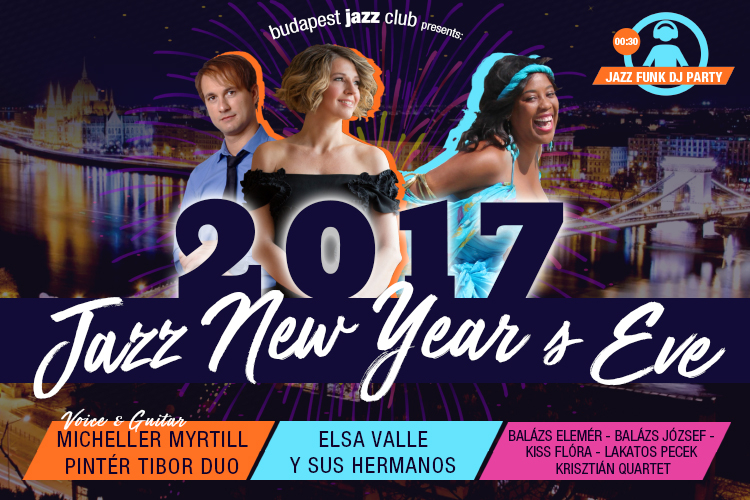 ★ PROGRAM ★
21:00: Opening
21:30: Voice & Guitar: Micheller Myrtill - Pintér Tibor Duo
Micheller Myrtill and Pintér Tibor play in duo since 2005, they are regular guests of Budapest Jazz Club. They launched two studio albums and gave many sold out concerts. They were among the best eight twice in Völklingen on the 'Voice&Guitar' international contest. They toured in London in 2009.

Micheller Myrtill – vocal, Pintér Tibor – guitar
23:00: Elsa Valle y sus Hermanos
Elsa was born amongst frenetic drum rhythms and godly melodies, since she carries Afro Jazz in her veins. She formed her new band with the most talented and flexible musicians. Their latin style jazz music will certainly heat up the area.
Elsa Valle – vocal, Winand Gábor – saxophone, vocal, Rozsnyói Péter – piano, Orbán György – bass, Kõszegi Imre – drums
00:00: Midnight Champagne toast
We greet our arriving guests with chair rows in the concert hall, and the cafe and bistro will be designed for standing reception.
After the midnight toast, following a quick rearrangement, we turn the bistro into a dancehall, and will move tables and chairs in the cafe.
00:30:  Dj FunkFred jazz-funk dance party (bistro)
00:30: Balázs József - Balázs Elemér - Kis Flóra -Lakatos Pecek Krisztián Quartet  (concert hall)
In addition to his success in jazz, Balázs József is considered as a recognised orchestrator and composer in other genres as well. He is regularly on overseas tour with his formations formed with his brother, Elemér Balázs. They will be joined by a lovely female vocalist for New Year's Eve.
Kiss Flóra – vocal, Balázs József – piano, Lakatos Pecek Krisztián – bass, Balázs Elemér – drum
The host of the night will be Kaszányi Roland, who is not just an excellent compere, but a talented illusionist as well, so he will literally make the night magical with his unbelievable tricks.
 

★ BUFFET SNACK MEALS ★

 

Besides the programs, we greet our guests with midnight Champagne, stuffed cabbage after midnight, and the following snacks between 9pm and 11pm: 

 

- Fresh lentil salad with roasted frankfurter

- Pig roast with steamed champagne cabbage

- Mini canapé with duck liver mousse and red shallot jam

- Mini canapé with avocado cream and roasted chicken breast

- Tomato and basil bruschetta

- Sweet potato soup with sweet chili shrimps

- Green pea cream soup with roasted almond flakes

 

+ Stuffed cabbage with sour cream after midnight
★ TICKET PRICES ★
Full night ticket from 9pm: 19.900 Ft
Late night ticket from 11:30pm: 5.900 Ft
Late night ticket, discount for 6 or more people: 4.900 Ft
Ticket sales:
In the box office of the venue (Hollán Ernõ u. 7. Budapest 1136) on concert days from 7pm to 10pm, or at
Jegymester ticket offices
.
Online ticket sales:
TICKET SALES:

AT BJC BOX OFFICE:
Opens one hour before the show.


ONLINE:
You can buy your tickets via www.jegymester.hu.
HERE >
PHONE RESERVATION:
Generally you can book tickets or even a table at the concert hall via phone.
Please note that all reserved tickets have to be picked up at least 30 minutes before the concert.
+36 70 413 98 37, +36 1 798 7289
If you haven't visited us yet, you may find other helpful information
HERE>