World Stars at Budapest Jazz Club: Jure Pukl & Joe Sanders Quartet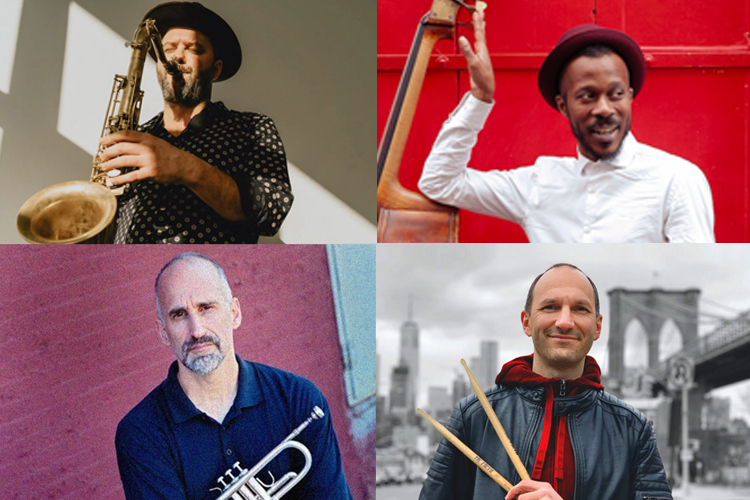 18.05.2023. 20:00 (Thursday)
Price:
6900
/ / HUF (
full price
/
student and pensioner
/
other discount
)
(There will be no tables in the concert hall this night. The seats may be occupied upon arrival.)
ANOROK is the latest project of saxophonist Jure Pukl. It combines musicians from different fields in music and improvisation. Original music is inspiring from current chaotic political and social situation in the world and maintaining its core in jazz, improvisation and contemporary classical music. Project is expanded with electronic sounds that are illustraiting and reflecting sounds of the planet we are living on and it is a tribute to Planet Earth and us, the inhabitants.
The ensemble was touring in US (Winter Jazz Festival, NYC) and Europe (Slovenia, Russia, Spain, Kosovo) just before the pandemic hit in February and March of 2020. Right after the tour was done the world shut down. This is also their first tour after the pandemic so it has deeper meaning. They will record Jure's new album for London label Whirlwind Recordings.
This is an All Star Band around the Slovenian saxophonist Jure Pukl, who was trained in Vienna, Boston and Graz and went to NYC after graduating to make a name for himself in the creative improvisation scene. When you return to your home country, the "old" contactsnaturally remain and new ones develop. Ralph Alessi is one of the most innovative and engaded trumpet players on the world scene now, Joe Sanders has been known as best of the best bassist and has been collaborating with giants like Brad Mehldau, Charles Lloyd, Herbie Hancock, Gerald Clayton and Ferenc Nemeth is a respected drummer who collaborates with names like Chris Potter, Lionel Loueke or Gregory Tardy to mention a few.
"This is a beautifully composed project that highlights Jure Pukl's innovative approach to his playing and compositions." UK Vibepage1image11862848page1image11863264
"An inspired recording of contemporary jazz." Jazzwise Magazine
Jure Pukl – saxophone, Joe Sanders – bass, Ralph Alessi – trumpet, Ferenc Németh – drums
TICKET SALES:
AT BJC BOX OFFICE:
Opens one hour before the show.

ONLINE:
You can buy your tickets via www.jegymester.hu.
HERE >
PHONE RESERVATION:
Generally you can book tickets or even a table at the concert hall via phone.
Please note that all reserved tickets have to be picked up at least 30 minutes before the concert.
+36 1 798 7289
If you haven't visited us yet, you may find other helpful information
HERE>