Oláh Krisztián Quartet: 4x4 Sessions - Hommage á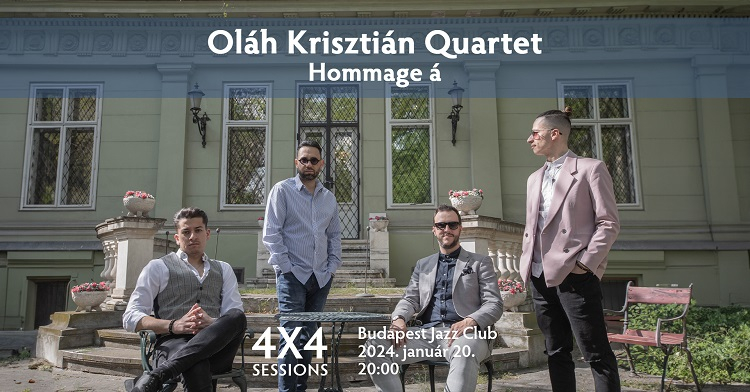 20.01.2024. 20:00 (Saturday)
Price:
3900
/ / HUF (
full price
/
student and pensioner
/
other discount
)
"We are entering OKQ's fifth year soon! The most important programs of late autumn and winter will be the intense workshop work, rehearsals and the club gigs! For a band whose music is based on improvisation these nights together with you are essential! In these concerts we can engage with you tightly and we can experiment on stage and try out any of our new musical ideas. We would like to draw the line of our music with the following four topics for the winter season. We would like to organize the music of our three released albums and attach some of our newest tunes to the following folders that exist in my head only for now:
23rd November 2023 - Impulsivity and Improvisation
21st December 2023 - Program Music
20th January 2023 - Hommage á
24th February 2023 - Numbers and Math
We are planning four truly engaging nights, join in!"
Krisztián Oláh
Krisztián Oláh's most important musical project is his Quartet. The young, award winning (Artisjus-, Junior Prima-, and two-times-Orszáczky award winner) pianist and composer not only writes his music for his Quartet but these four musicians (Krisztián Oláh - piano, Kálmán Oláh - saxophone, György Orbán - bass, Dániel Serei - drums) also create a very unique atmosphere together that comes from their strong musical and personal bound. Though the band's repertoire consists of Krisztián's own compositions, all of the musicians are great improvisers. This allows spontaneous and collective improvisation that carries todays' spirit and musical tools, to be an essential part of their performance. The band creates a fresh and complex sound with this musical background.
OKQ has released three albums so far. Their debut was "At the back of my mind" in 2020. Crescendo's (2022) compositions mark a crucial phase of Krisztián Oláh's artistic journey as a composer, and represent the turning from impulsivity towards consciousness. Their latest album titled "Music for 24/7" was released in the spring of 2023. What makes this album very special is that it features the TRYPL Horns (Ryan Quigley, Paul Booth, Trevor Mires), Great-Britain's emblematic brass and reed section.
Kálmán Oláh – saxophone, György Orbán – bass, Dániel Serei – drums, Krisztián Oláh – piano
Discounted season ticket can be purchased for the 4-part concert series.
TICKET SALES:
AT BJC BOX OFFICE:
Opens one hour before the show.

ONLINE:
You can buy your tickets via www.jegymester.hu.
HERE >
PHONE RESERVATION:
Generally you can book tickets or even a table at the concert hall via phone.
Please note that all reserved tickets have to be picked up at least 30 minutes before the concert.
+36 1 798 7289
If you haven't visited us yet, you may find other helpful information
HERE>