World Stars at Budapest Jazz Club: Scott Kinsey - Borlai Gergő - Hadrien Feraud (US-HU-FR)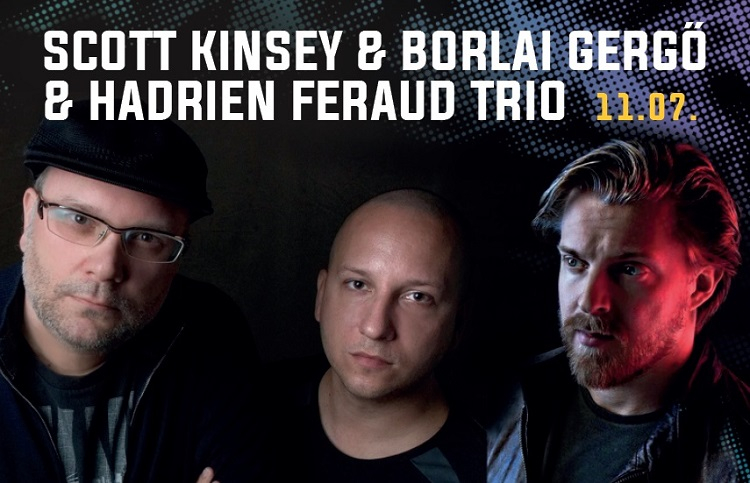 07.11.2022. 21:00 (Monday)
Price:
4900
HUF
(There will be no tables in the concert hall this night. The seats may be occupied upon arrival.)
19.00 SOLD OUT
21.00 LAST TICKETS
Borlai Gergő used to be an emblematic figure of the Hungarian jazz scene, but now he is known worldwide. He has appeared on a long list of pop and jazz records. He is playing in a trio with Scott Kinsey, who is the perfect match on the keyboards with his brilliance. Kinsey's music has elements of Zawinul and Pastorius, spiced with originality and creativity. He has appeared on stage with musicians such as Bill Evans, Kurt Rosenwinkel, or Nicholas Payton. The bass guitarist of the band is the French musical genius, Hadrien Feraud. He has worked together with John McLaughlin, Sylvain Luc and Chick Corea.
Scott Kinsey (US) – keyboards, Borlai Gergő (H) – drums, Hadrien Feraud (F) – bass guitar
TICKET SALES:
AT BJC BOX OFFICE:
Opens one hour before the show.

ONLINE:
You can buy your tickets via www.jegymester.hu.
HERE >
PHONE RESERVATION:
Generally you can book tickets or even a table at the concert hall via phone.
Please note that all reserved tickets have to be picked up at least 30 minutes before the concert.
+36 1 798 7289
If you haven't visited us yet, you may find other helpful information
HERE>