Djabe & Kent Sangster's Obsessions Octet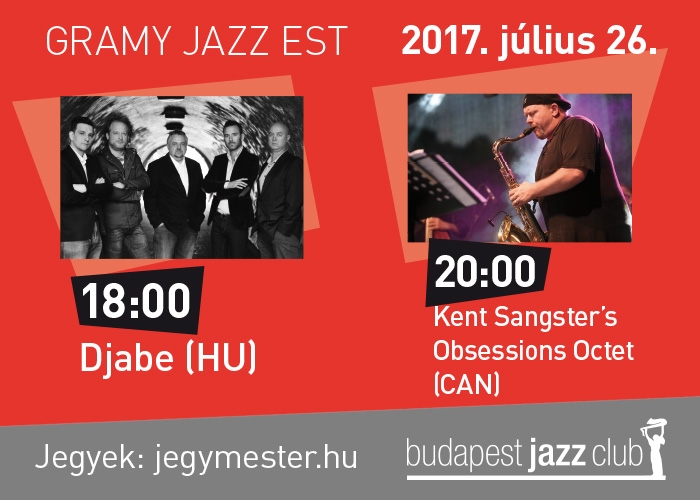 Djabe plays from 6pm, followed by Obsessions Octet at 8pm.
6pm: Djabe
Djabe is the no.1 jazz-world-fusion group from Hungary. They have been around for 20 years, played in 42 countries, and won multiple awards at home and abroad as well. In their music, jazz mingles with elements of Hungarian folk and world music.
Barabás Tamás – bass guitar, Égerházi Attila – guitar, percussions, Kaszás Péter – drums, Koós-Hutás Áron – trumphet, Nagy János – keyboards
8pm: Obsessions Octet
Obsessions Octet, led by Kent Sangster, is a Canadian band formed in 2005. Four members represent the traditional jazz band, and the other four are the string quartet. Their music has gained the appreciation of both jazz and classical music lovers. They have performed with musicians such as Chucho Valdez, Pat Metheny, Joe Lovano, David Liebman, Ira Sullivan, Randy Brecker, Tommy Banks, and Guido Basso.
Kent Sangster – saxophone, Joanna Ciapka-Sangster – violin, Neda Yamach – violin, Leanne Maitland – viola, Ronda Metszies – chello, John Taylor – bass, Chris Andrew – piano, Owen Howard – drums