Archive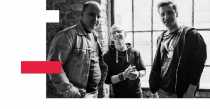 02.11.2017. 20:00 (Thursday)
JazzFest Budapest: Gyémánt Bálint Trio
Price: 1600 / 1200 HUF (full price / student and pensioner)
The music of Gyémánt Bálint is loved by all audiences, from contemporary improvisation enthusiasts to pop fans. 
01.11.2017. 20:00 (Wednesday)
Pintér Zoltán Trio
Price: 1400 / 1000 HUF (full price / student and pensioner)
Every jazz pianist's dream is to play in a band where he can achieve his own ideas.
2023
2022
2021
2020
2019
2018
2017
2016
2015
2014
2013