Archive
02.11.2020. 22:00 (Monday)
FREE Jam Session Nights:
Free
02.11.2020. 20:00 (Monday)
Harcsa Veronika & Gyémánt Bálint Duo
Price: 2500 HUF
The internationally known and popular Veronika Harcsa and the highly recognized Bálint Gyémánt singerguitarist duo are a special bright spot of the domestic, and proud to say, even the European music scene.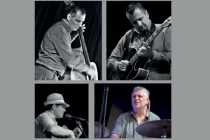 01.11.2020. 20:00 (Sunday)
Budapest Bossanova
Price: 1800 / 1400 HUF (full price / student and pensioner)
Authentic bossa nova vibes from Brasil, intimate, light tunes with traditional bossa rhythm.
2023
2022
2021
2020
2019
2018
2017
2016
2015
2014
2013